04 Jan

Salt Therapy & Yoga = Salt Cave Yoga Follow my blog with Bloglovin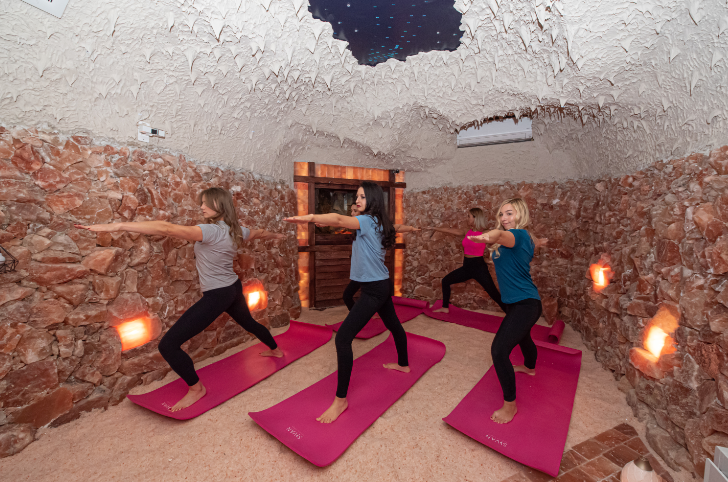 Did you know that salt therapy and yoga can be extremely helpful for the body? Salt therapy is an immersive treatment involving the health benefits of Himalayan salt. In a legitimate salt room, the room will nearly be lined floor to ceiling with Himalayan salt as well as have a halogenerator that pumps 100% pure grade Himalayan salt into the air for maximum effect. Harnessing the power of salt therapy can improve breathing issues over time including asthma, chronic bronchitis, COPD, and more! When inhaling Himalayan salt in a controlled environment, the Himalayan salt acts as a thinning agent for mucus as well as a healing nature due to the natural tendencies of salt. In addition to improved respiratory function, salt therapy can do wonders for the skin as the natural healing power of salt can help to clear and gently exfoliate the skin.
Finally, one of the many important benefits salt therapy can bring, is peace of mind. By promoting deep breathing in a tranquil environment, salt therapy can be wonderful for overall stress and anxiety reduction.
Why Salt Cave Yoga?
While there are more than 100 different type of yoga, most sessions typically include breathing exercises, meditation, and assuming postures (sometimes called asana or poses) that stretch and flex various body parts in order to improve flexibility, reduce stress, and increase mindfulness.
Salt Cave Yoga combines the benefits of both salt therapy and yoga in just one 60 minute session! When you are practicing deep breathing and meditation in a room designed with clean, pure air, you will leave feeling refreshed and rejuvenated.
If you live on Long Island or in Queens, Tranquility Foot Spa & Salt Cave offers Salt Cave Yoga so that you can be the best version of yourself. Contact us today!
Follow my blog with Bloglovin